Optimistically Pessimistic Day
Let me start off by saying: "I FREAKING PREDICTED THIS TOUR!"
Back when we're all waiting impatiently for TLM, in 2010, I had some sort of premonition that Dave would tour here 2012, so much so that I changed my email password to "anthemictour2012". No kidding! So for two years I kept on believing it would happen in 2012. I'm also a sucker for signs and there's this sign on the railroad side I pass every day to and from work, which says "J 12". Oddly enough, on the concrete ties of the railroad, it says COOʞ with a flipped K. I guess the universe was trying to tell me something then ;) [J 12 = July 2012, maybe?] But I was pessimistic enough to even expect anything remotely close to a tour. [By the way, no use of trying to log in to my email with that ^ password, I changed it, lol.]
Until one day circa March 2012 (maybe Imogen can refresh my memory), out of nowhere, I decided to tweet a local Sony Music rep, asking if there's a possibility for a show this year, completely nonchalant with zero expectation. When he answered "yes, he might come soon", I literally squealed, jumped out of my seat, and immediately DM'ed Imogen to see if she's heard anything, cause I thought if he's going here, then he MUST include the Philippines as well. I still remember Imogen's replies. It was so hard trying to contain ourselves from the possibility, even though the whole thing wasn't even visible then. But since we didn't wanna jinx it, we kept quiet for about a month or so, until Dave himself said that he's going to Asia. I literally pinched myself that day.
First thing I learned from Twitter was the promoter's name, Trilogy Live. Never heard of them before, so I thought this could either be good or bad. Good because I wasn't familiar with the way they're selling tickets, doing M&G, and everything else; so there's a room for hope, since the most well-known promoter I'm familiar with, Java Musikindo, only selects M&G winners randomly via Twitter and my chance for that is as slim as a stick. But it can also be bad because it's not widely known. So I gave the promoter a call, representing @DavidCookIndo. They were surprised we learned about them so fast and were willing to help us as they needed our help to promote the tickets as well. Everything looked promising in the beginning, but after frequent chats with them, I decided that it would be best if we hold back our enthusiasm a bit since they didn't even know if there would be a M&G at all. Our next move was to figure out strategy to meet not David, but the other boys, since we thought they would be more accessible.
Which leads to the next story.
Soekarno-Hatta Airport
I was tipped off by someone overseas & did a little research myself to find Dave's flight details (which I kept off from everyone outside our group). It's around the time I was supposed to pick up Imogen, Chapark (Philippines), and Sue (Malaysia), so I thought "good, shooting three birds at once". Packing the souvenirs to bring with us (we're afraid we wouldn't get another chance to see the band), we're ready to go.
We (Riza -a Filipino who works in Jakarta; Mars, Anthony (Singapore); Anthony's friend, Indra; Fanie (@Cook4LifeTime); and I) arrived early & went to Coffee Bean to fill up energy. Then we waited outside the door. I saw some promoter crews so we knew it was the right door. You know what happened from the video, right? Andy and Devin were the first to walk out the door, then Monty, and Nick. I didn't even say "hey David" (shows you how much I cared, lol) cause I didn't see him immediately. Instead I shouted "hey, Andy!" and I chased to tell him "Hey, I need you to sign THH & MWK CDs…."… Andy was about to say something when I continued "… no no, not now, later, so hope to see you again later?" and I saw relief in his eyes, lolz. He said "of course" and then he offered his hand for me to shake. How polite! I'm still embarrassed by my stupidity to not offer my hand first.
And Andy, please know that I would never bother you with signature in inappropriate times :D I just wanted to let him know that he, too, was welcomed. Although by doing so, I completely ignored Devin who stood by his side, haha. And speaking of which, my first impression about Devin? Well, let's just say he's so pretty that I forgot about Neal [I'm a big Neal fan, for those who don't know]. That should say something, hee hee :P Oh, and Monty? He looked tired. Or deadpan. Or maybe it's just the way he is, lol.
THEN David & Andrew were approaching and my arm tried to hand out the gum I've been carrying everywhere -sent by a very generous fan from the US-, feeling unsure if Andrew was gonna let me give it to David. But David reached his hand out to take it and said "AH, thanks!". Pretty sure I said it's from MI but it doesn't sound like I did on the video. Maybe it's one of those things I've rehearsed but turned out unspoken, lol. I might have imagined it but looks like he kind of expected the gum? I didn't even know that he didn't take anything from anyone else (cause I was busy talking to Andy) until Mars pointed it out. It was kind of flattering.
So, despite the pessimistic thinking I had, mission #1 accomplished. We managed to give our gifts to Devin and Nick and most importantly, the gum.
We didn't leave the airport because we're there to pick up friends. So while we're there watching the promoter crews load the equipments to the truck, we approached to chat a bit with Matt, the new tech guy, and Matt, the tour manager. They're both extremely nice. We still had two goodie bags left meant for them so we gave the bags to Matt the tech guy. He was surprised and asked "for me?" then asked again "for ME?", lol, it was cute. He said we shouldn't have to and we said "of course we should, it's the only fair thing!" and then he offered to hug me. Since we're both carrying stuff, the hug ended up very awkward, lol. When we said "see you at the show!" Matt went "oh, you're going to the show?". DUH!
After their vans finally left, we went inside the terminal to see if Imogen and Chapark's flight has landed. Apparently it has so we stayed inside to wait for them. Thirty minutes in and they're still not showing up. Got a text from Imogen a few minutes before that saying they're at the baggage claim. Waited a little bit longer and we were all giddily talking about the boys while updating tweets. Checked my text again and it turned out that Imogen & Chapark came out the other door and we missed them! I still don't know how long they were waiting for us before we finally met. Sorry, guys!
Driving to Terminal III to pick up Sue, we shared our "first experience meeting the boys" with the Pinoy girls. They were hoping to catch them at least at the baggage claim, but it wasn't their lucky night :P We went inside the terminal to make sure we didn't miss Sue this time, but we still missed her! Well, almost… lol. She was looking around but since she didn't recognize any of us (everyone knew what Mars looked like at this point, from her airport pic with the boys, but Mars was sitting on the bench a little far away with the Pinoy girls), she continued walking away. She was carrying something rolled up so I figure it was a poster or a sign. "Sue?" we called and yay, our group was finally complete.
On the ride to our hotel, we went on talking about the boys. Well, technically, they're the ones bringing us together, so there's really nothing else to talk about, right? ;)
Going straight to the next morning:
Dahsyat RCTI
Having had only about an hour of sleep, Sue, Fanie, and I were ready by 6am to go to RCTI studio to catch David there. The security guard from the night shift told us to wait inside in the waiting room when the morning shift one told other fans to wait outside (lucky us). Saw David & Andrew coming in early (around 7.45 when David was only supposed to go live around 9.30-ish, really admire their professionalism) and saw them laying down on the couch in the VIP waiting room so we didn't bother them.
Show time. David looked fresh. Saw some fans trying to hug and get a pic with him but I just stood from a far and waved at him. Surprisingly, he waved back at me (no one else beside me waving so he must have waved back at me. If you try to tell me otherwise, I don't believe you, lol).
Time to go live and he was sooo gracious and charming! Let me first tell you how that show works. I saw quite a few tweets about "no interpreter at all, it's kinda rude". Well, Cinta Laura (the guest host who threw the Qs) acted as interpreter but mostly for the audience, not for David, because the things said in between the Q&A were mostly fillers and useless jokes there's not even a need to explain it to David :)
After the show, I saw some reporters hovering around the VIP waiting room where David was in. Some were wondering if they could get a press conference but schedule was super strict, David had no time for it as they're escorted outside. There were still fans trying to get near him but Andrew wouldn't budge. I followed them outside cause I needed to get out. Once outside in the parking lot, I stopped to reply tweets (priorities! Beside I can't tweet while walking, there will be accidents if I dare to try, lol) only to notice that I stood beside David's car. He was leaning his back to the car seat, I assumed he was tired. Poor boy. So I just smiled my best and waved again at him. To my surprise, he waved back again before leaving! Man, I can't get over how sweet and nice he is. Since Fanie, Anthony, Sue, and Indra were still inside with our bags, I went in from the back door to collect our bags -and join them.
Coming down to the hotel at lunch time, we decided to get some rest before the show and not trying to go for soundcheck. That would be the time where I got a call from the promoter asking me to get 5 people for the meet & greet. Yes, we had another chance to meet David! But only five people? Oh well, the Singaporeans and the Filipino girls said they didn't need another M&G and it was our only shot so it made me less guilty.
I finally went with those who have contributed a lot for this show and of course I selfishly included myself. I still have one goodie bag left to give to him and I listed the other @DavidCookIndo admin, Ratna; Riza, who has supported @DavidCookIndo a lot by paying for our hotel and car rent; Fanie, who has done one hell of a promotion job for the show; and Sue, who brought a message and gift from @DCookMalaysia.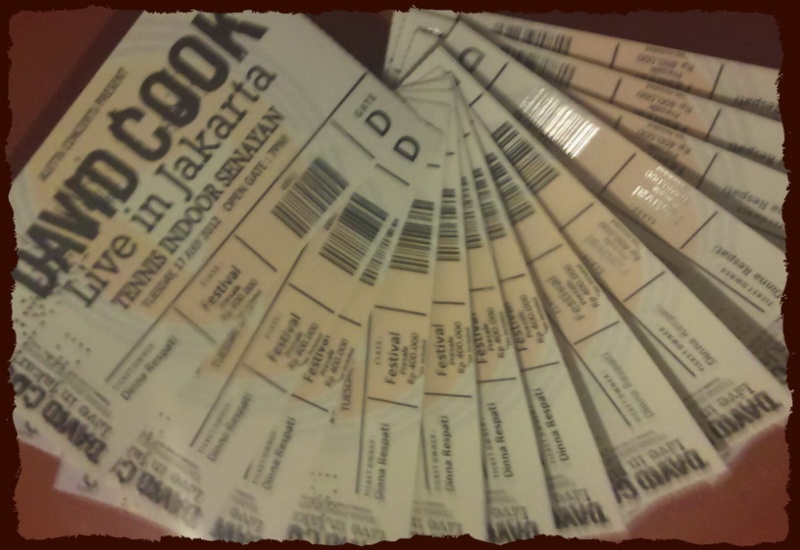 SHOW NIGHT!
We waited what seemed like the longest time for the promoter to set up the M&G and when they're done, it was soooo rushed that we only had time for a group pic. So we took the pic and that's it. Thank God for Sue (bless her heart AND quick mind) who was standing in front of me asking David for a hug and he hugged her. I thought "oh, why not, this is about the only chance I could get" so I asked as well. And the hug was exactly the way you all have been describing: warm, full arms hug, sincere…
Then I practically squeezed time (like I know how to do it, yeah) to give our last gift and told Dave it's for his mom. He looked surprised "this is for my mom??". "Yes, and for your lady", I continued. I swear his eyes widened a bit before he went "oh, thank you so much!". You can tell that he meant it.
When we stormed out the room and were practically running to the venue, I asked Sue how she could think of asking for a hug in such a chaotic situation. She said "well, if we can only say or do one thing to David, then I'd like to get a hug". Well prioritized, lady ;)
In the venue, we tried to find Imogen, Chapark, Mars, & Anthony. Didn't find them but we managed to get a pretty good spot, at least for the ustream sake. I was really worried that there wouldn't be enough reception for a streaming. And I didn't have back up. But what the heck, at least I tried. After a couple of failed attempts, I finally got the hang of it and was able to present at least something worth listening to you all.
Cue intro of Circadian: CHILLS. It's REALLY happening.
I was soooo mesmerized I forgot to hand the phone to Ratna's husband who was the designated ustreamer, so pardon for the late start (a week late pardon, lol).
I was also worried about the audio quality as the instruments were kind of drowning Dave's voice, but it's probably because I couldn't hear clearly amidst the screaming and singing along.
I'm not gonna recap every song so let me just say, I've heard the songs sooo many times before from the ustream but experiencing them LIVE was clearly something else. Magnificent. Perpetual bliss. How I love the Champagne Supernova part which I often overlooked on YouTube, the intro to Mr. Sensitive, even TLG and windy! I was surprised that the audience was LOUD and that they knew every word!
I almost screamed to myself, "After all these times of searching for those who know not only ABMB but David's whole repertoire, I've finally found them here, now?!". Timing couldn't be more perfect though as I was afraid Dave would get a passive audience. That would be my worst nightmare!
ENCORE
Fade Into Me: I didn't think it could be even more beautiful than any version of FIM I have heard, but it did. It might not be better than Irving Plaza's, but the ending left me in awe. The emotion was soooo raw you couldn't help but feel what he felt. I was hoping the crowd would be quiet and let David sing, but they didn't overdo their singing along, so I followed suit.
I cried during REM. Cried because it's my song, cried because it's ending, cried because I don't know how many years I would have to wait to hear it live one more time, and cried because the past week of meeting new friends and meeting David and the boys was sooooo overwhelmingly awesome. I was so emo that I didn't stop the ustream until the very last note, plus I always thought it was the right way to end the show.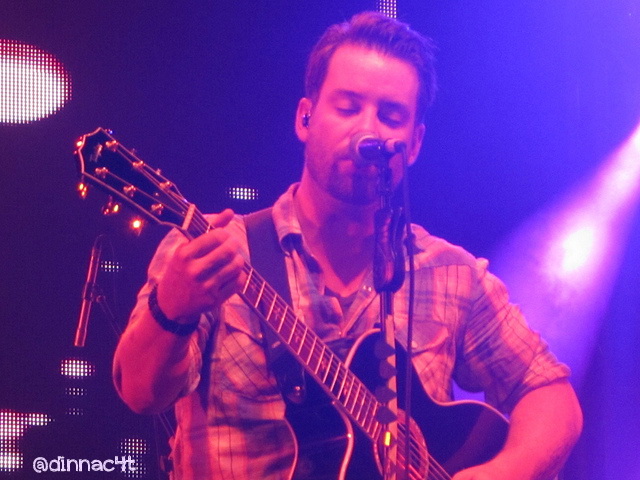 After the show, we all decided to go to the hotel the boys were staying at as I still needed to see Andy for everything I asked him at the airport. We got there before them and when they arrived, security escorted them directly to the elevators. I thought "okay, there goes our last chance", but since we had ordered drinks, we figured we'd hang there for a bit. And then the double Matt came in. Saw Imogen handing out their gift to Matt the tech guy so I approached him as well and told him I'm sorry about the awkward hug (it needed to be said, okay? I needed to protect my reputation so not be called the worst hugger in the world, lol). Matt the tour manager then thanked us for being the reason they have a job. Aww, that's really sweet! <3 After that, thinking I wouldn't have my chance to see Andy, I gave Matt the tech guy my gift to give to Andy, when I saw people running toward one direction. Apparently Andy came downstairs. Matt then asked "there he goes, wanna give him yourself? I said "of course, thanks, by the way!" and ran to where Andy was and there were few people already lining up to get a pic with him [sorry Matt, didn't mean to be disrespectful, it was nice talking to you, but my time was limited, lol]. When it's my turn, I asked Andy to sign my THH-MWK CDs (To Have Heroes, Lost in America, Incoherent with The Desire To Move On, and Luna Despierta). He asked if I have a sharpie. Duh!
Then while signing, he said "wow, you have everything!" and I said "no, I don't have Midwest Kings and Judging a Bullet, those are like rare items now" and he said "well, okay, you have almost everything". Lolz. Afterwards, I managed to give him the gift, a wedding gift, to open in September. He was surprised I knew, but then grinned and said "to open in September, okay" :P and then we took the pic.
I went back to my seat and then Nick showed up. Ran again toward him and got a pic, asked him if he's gotten one of the souvenir bags, mentioning what's inside, and he said "oh, that was from you? Very cool!". It's a relief to know that it got to his hand. A few days ago I asked Andrew the same Q and he said he got it as well. Another relief 'cause I didn't want him to think we left him out. The bags could have easily gotten lost somewhere as it was very chaotic.
Devin and Monty also came down after that but I didn't get any pic with them as Monty was starving and both were rushing to the dining room, lol.
We stayed a bit longer, not trying to wait for David cause somehow I knew he wouldn't come down, finishing our drinks while reviewing all the pictures we took before heading down to our hotel to chat some more :D
So, let me finish this long-winded recap by pointing out a few things:
       I NEVER considered David the most handsome guy in the world. Seriously. I mostly drooled (figuratively) and all out of conformity, and yes, I know he's beautiful, but I never really understood it, UNTIL I saw him in person. David just SHINES. And not because he's pale, ha! I swear he's just beaming. I really do think he's in a happier place now and I couldn't be happier for him :)
       Every time I saw David during his time in Jakarta, he always smiled, no matter how tired or annoyed (if ever) he was. And have I mentioned his professionalism? Very admirable.
       He puts on a GREAT show and it was easily the best and loudest show I've ever experienced. Nothing/no one else compares. And I'm not biased.
       I learned that had I gotten a chance to talk to him, pretty sure I could have done it. I wasn't nervous at all on my two encounters (the gum and the gift for Beth). And there's just something about David that calms me down, just like what some people told me. All the nerves you feel prior to meeting him will be gone once he starts talking to you.  
       I still think someone tipped him off about my plan to give him gum. Cause his hands were holding different things he could barely accept anything. THAT or he just can't say no to cinnamon gum :P
If I said I'd support him 'til the end of time before, I mean it even more now. I will go the distance and the miles to try to give him what he deserves. This is my pledge and I hope y'all will straighten me out if I ever go off-track (hopefully you won't need to).
Thanks everyone for providing me with kind and comforting words prior and after the show, you all are the best of friends!